All 13 ODIs on the ICC Asia Cup Schedule 2023 have been set. Also, the event will start in August 2023. On the Asia Cup Schedule, you can see all of the ODI games that will be played during the event. There will be a total of 13 games during the ICC Asia Cup. There will be six games in the Group stage and six in the Super 4 stage. Thus, the final match will be between the two teams with the most points from the Super-4 stage. The series is set to take place in Pakistan. And India's games will take place in Sri Lanka.
Asia Cup 2023 Complete Schedule
The schedule will be split into the "First Round" for matches between Groups A and B teams. Also, the "Super 4" for the final four teams. See below for each team's full ODI Asia Cup 2023 schedule. During the Group and Super 4 rounds, each team plays the other team at least once.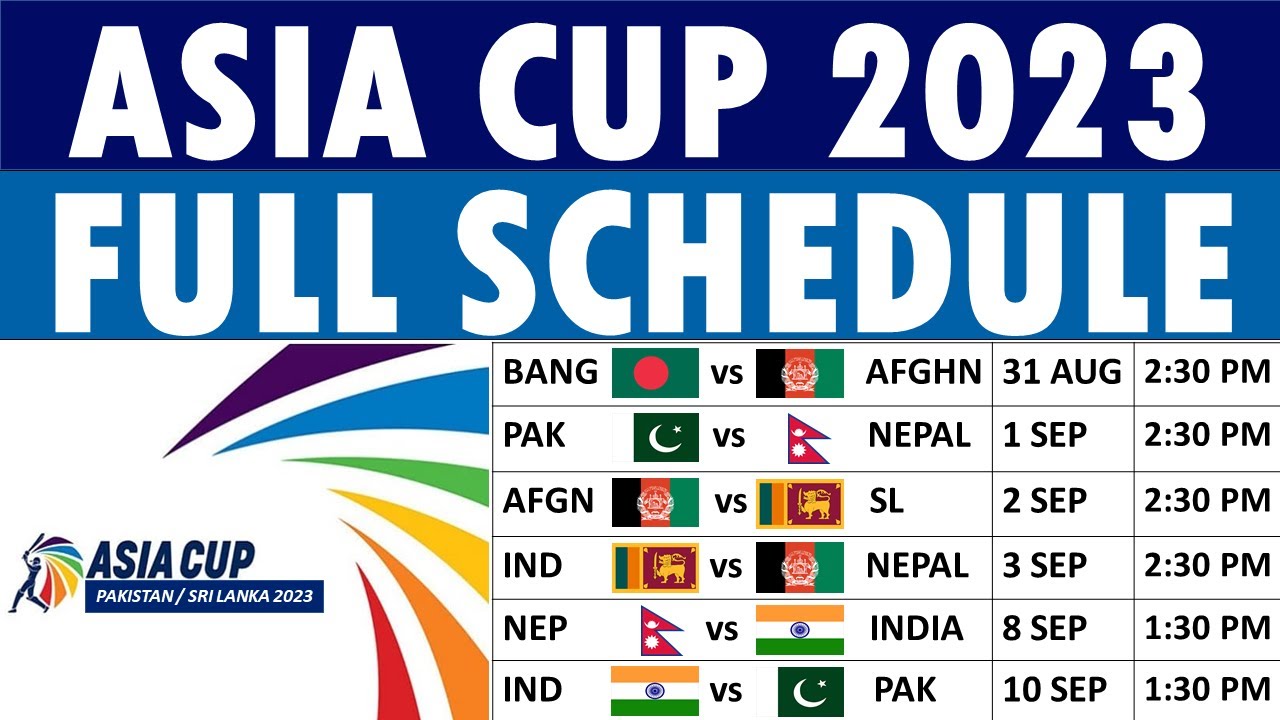 Sep
Sri Lanka 

vs

 Afghanistan 1st ODI | Group B
2:30pm IST | 2pm PKT | 5am EST | 9am GMT | 1pm LOCAL
Pakistan
Sep
India 

vs

 Pakistan 2nd ODI
2:30pm IST | 2pm PKT | 5am EST | 9am GMT | 1pm LOCAL
Sri Lanka (TBC)
Sep
Bangladesh 

vs

 Afghanistan, 3rd ODI, Group B
2:30pm IST | 2pm PKT | 5am EST | 9am GMT | 1pm LOCAL
Pakistan
Sep
India 

vs

 TBC, 4th ODI, Group A
2:30pm IST | 2pm PKT | 5am EST | 9am GMT | 1pm LOCAL
Sri Lanka (TBC)
Sep
Sri Lanka 

vs

 Bangladesh, 5th ODI, Group B
2:30pm IST | 2pm PKT | 5am EST | 9am GMT | 1pm LOCAL
Pakistan
Sep
Pakistan 

vs

 TBC, 6th ODI, Group A
2:30pm IST | 2pm PKT | 5am EST | 9am GMT | 1pm LOCAL
Pakistan
Sep
Sri Lanka 

vs

 Afghanistan, Super Four, Match 1
2:30pm IST | 2pm PKT | 5am EST | 9am GMT | 1pm LOCAL
Pakistan
Sep
India 

vs

 Pakistan, Super Four, Match 2
2:30pm IST | 2pm PKT | 5am EST | 9am GMT | 1pm LOCAL
Sri Lanka (TBC)
Sep
India 

vs

 Sri Lanka, Super Four, Match 3
2:30pm IST | 2pm PKT | 5am EST | 9am GMT | 1pm LOCAL
Sri Lanka (TBC)
Sep

Pakistan 

vs

 Afghanistan, Super Four, Match 4

2:30pm IST | 2pm PKT | 5am EST | 9am GMT | 1pm LOCAL
Pakistan
Sep
India 

vs

 Afghanistan, Super Four, Match 5
2:30pm IST | 2pm PKT | 5am EST | 9am GMT | 1pm LOCAL
Sri Lanka (TBC)
Sep
Sri Lanka 

vs

 Pakistan, Super Four, Match 6
2:30pm IST | 2pm PKT | 5am EST | 9am GMT | 1pm LOCAL
Pakistan
Sep
TBC vs TBC – Final Match
2:30pm IST | 2pm PKT | 5am EST | 9am GMT | 1pm LOCAL
Sri Lanka (TBC)