In the match against Bangladesh, team captain Babar Azam set another record despite losing the wicket by scoring just one run. Captain Babar Azam became the highest run-scorer for Pakistan in T20 Internationals in the shortest innings. He achieved this feat in just 64 innings in which his average was 47.43 while he played 69 matches.
Team Captain Babar Azam achieved one more record

Babar Azam is the top scorer for Pakistan in T20 Internationals with 2,515 runs. Besides him, Muhammad Hafeez is second with 2,514 runs. Shoaib Malik is third with 2,423 runs and Umar Akmal is fourth with 1,690 runs.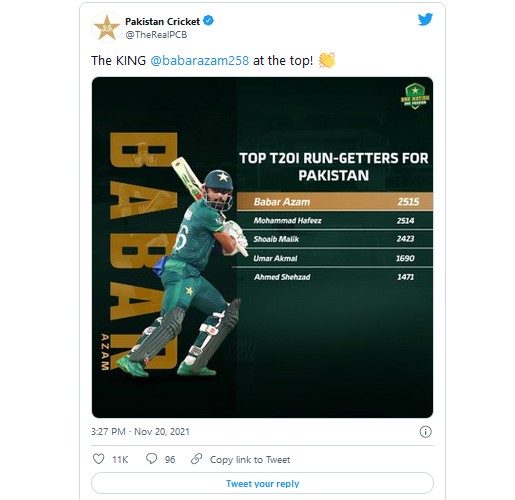 Recently, Babar Azam broke the record of Indian Virat Kohli by scoring 2,500 runs in short innings in T20 International matches. Similarly, during the T20 World Cup, Babar Azam scored 14 half-centuries as captain in the match against Namibia. Leaving Virat Kohli behind with 13 half-centuries.