Pakistan vs Namibia is another interesting and thrilling match that has got the fans on nerves. So, read out the complete details down below with us about the Pakistan vs Namibia Live scores and T20 World Cup Live Show!
Pakistan vs Namibia Live Score | T20 World Cup Live Show 2021-22
The wait for the T20 world cup's upcoming match between PAK and NAM is over now. The match is begun and all the fans are completely over their toes. Also, the opening from the Pakistan side is Rizwan and Babar Azam.
Live Score
Pakistan has won the toss and chose to bat first. Rizwan and Babar Azam are first from the side of Pakistan.
The bowling for the first over is being done by the Smitt and Lofttie.
Thus, the 10 overs have been completed with 60 runs and no loss for Pakistan.
Also, Babar has completed its half-century. 
Babar Azam has been catch out on the 70th run and a total of 118 runs.
Fakhar Zaman has also been wicket out.
Hafeez and Rizwan are continuing the charge whereas, the runs remain 142 in the 17th over.
Namibia has got poor fielding skills for the current match, giving the Pakistani cricketers a free hand in the field.
Pakistan batting time has been completed with a total of 189 runs with a loss of 2.
It's time for Namibia to bat.
Shaheen Afridi takes charge of bowling in the first over.
It's one down for Namibia at the beginning of the match, and it is not a good sign for NAM.
A wicket down for Nam on the 55th run on 8.4over.
So, Namibia lost its third wicket on the 83rd run and 12.4over.
Sadly, Hassan Ali catches Williams's ball and its 93 scores with the loss of 4.
5th wicket down for Namibia.
Pakistan won by 45runs and enters semi finals
PAK VS NA
It is a good start for the Pakistan cricket squad. Players have geared up for the T20 World Cup Cricket Match, 31 of 45. Thus they are fighting for the biggest tournament, ICC Men's T20 Worldcup 2021-22. Thus, they are geared up for this exciting match. Also, all their fans are truly excited about the match.
Venue 
So, It is being played at Sheikh Zayed stadium.
Match Fixture 
So, the match is being played on 2nd October 2021.
Full Pakistan squad:
Babar Azam (c), Shadab Khan, Asif Ali, Azam Khan, Haris Rauf, Hasan Ali, Imad Wasim, Khushdil Shah, Mohammad Hafeez, Mohammad Hasnain, Mohammad Nawaz, Mohammad Rizwan, Mohammad Wasim, Shaheen Shah Afridi, Sohaib Maqsood.
Full Namibia squad:
Gerhard Erasmus (c), Stephen Baard, Karl Birkenstock. Michau du Preez, Jan Frylinck, Zane Green, Nicol Lofie-Eaton, Bernard Scholtz, Ben Shikongo. JJ Smit, Ruben Trumpelmann, Michael van Lingen, David Wiese, Craig Williams, Picky Ya France.
Umpires: Chris Brown (NZL) and Chris Gaffaney (NZL)
TV umpire: Paul Reiffel (AUS)
Match referee: Jeff Crowe (NZL)
Player of the match: M. Rizwan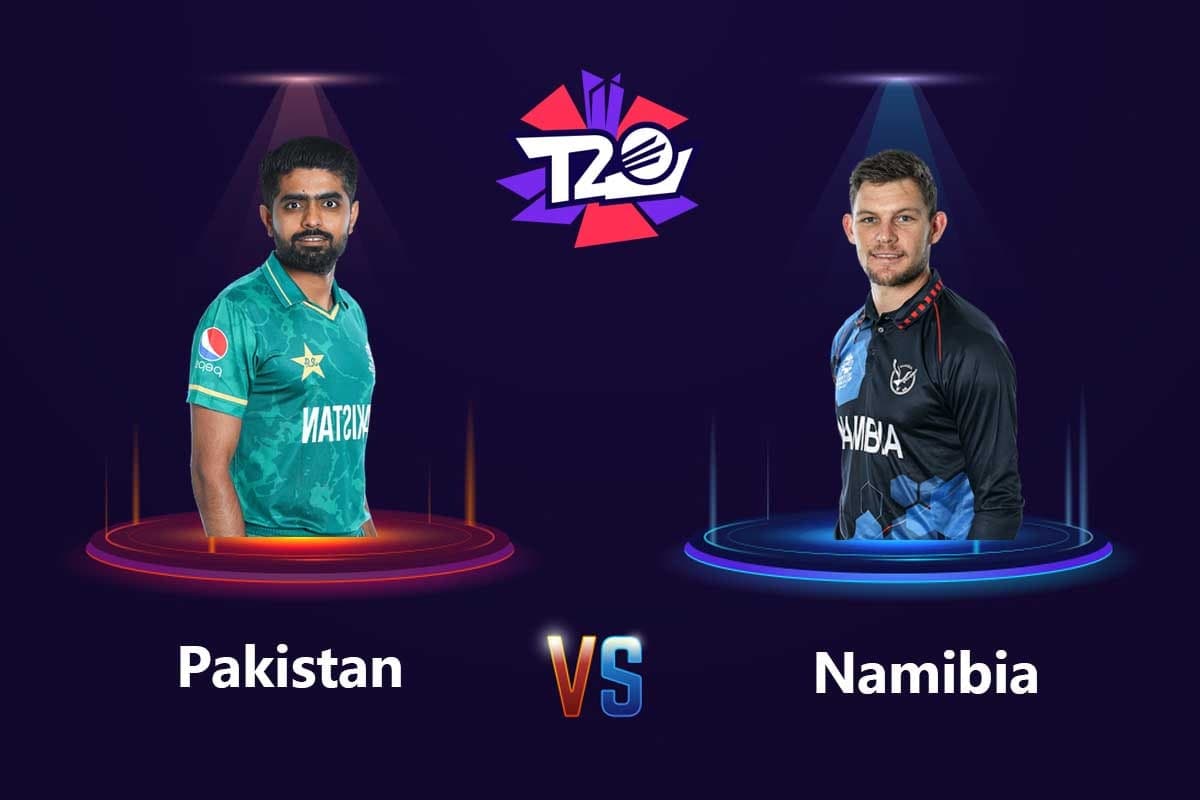 Verdict
What do you think about this news? So, do not forget to share your thoughts with us in the comment box down below, right now! Also, feel free to ask any queries. Also, stay tuned for more news and updates.
Have a nice day!