In the World T20 match in Dubai on Friday night, Pakistan defeated Afghanistan to take the first position in Group 2 and also paved the way for reaching the semi-finals. Pakistan cricket team's batting consultant Mathew Hayden celebrated his 50th birthday by cutting a cake with the team.
Batting Consultant Mathew Hayden Celebrated his 50th Birthday in Sharjah after PAK vs AFG Match
In a video released from the PCB's Twitter account, it can be seen that the players of the national team are gathered around a table. First of all, the main character of the victory against Afghanistan, Asif Ali, cuts the cake and the players applaud.
Matthew Hayden then cut his birthday cake. He fed a piece of cake first to Thaqleen Mushtaq and then to Muhammad Hafeez. The players congratulated Hayden on the occasion and shook hands.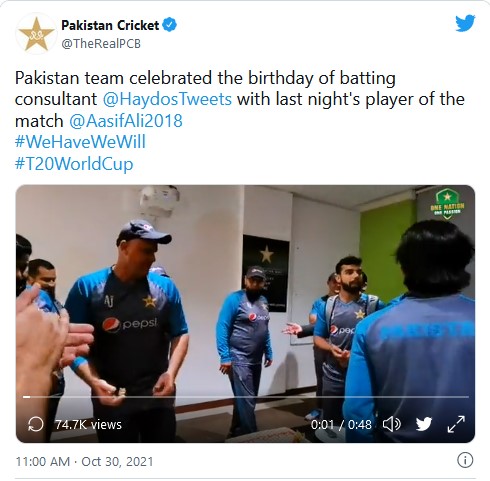 What do you think about this news? So, do not forget to share your thoughts with us in the comment box down below, right now! Also, feel free to ask any queries. Also, stay tuned for more news and updates.