Nauman Niaz off aired after being disrespecting Shoaib Akhtar on live TV is news of the day! Read out the details down below with us.
Nauman Niaz off aired after being disrespecting Shoaib Akhtar on live TV
Dr. Nauman Niaz was scene hosting a live show, game on hai, where Shoaib Akhtar was invited as a guest. During a discussion over the victory of Pakistan against New Zealand, Shoaib Akhtar was asked to comment on it. Thus, he was interrupted rudely and disrespectfully by the host, dr Nauman Niaz.
"You're being a little rude and I don't want to say this: but if you're being over smart, you can go. I am saying this on-air, said dr. Nauman Niaz to Shoaib Akhtar."
Not only this, Nauman Niaz asked the legendary player, Shoaib Akhtar to leave the show at once. Thus, Shoaib Akhtar gracefully resigned from PTV and left the scene.
"A lot of apologies guys, a lot of apologies. I am resigning from PTV. The way I have been treated on national TV, I don't think I should be sitting here right now. So, I am resigning. Thank you very much," he said and left.
Consequently, the officials of PTV have formed an inquiry committee to get to the resolution of this matter. Also, Dr. Nauman Niaz and Shoaib Akhtar have been off aired by the PTV officials. Followingly, Shoaib Akhtar denied being part of the inquiry. The reason is that he thinks the decision can be taken by looking at the video clip itself.
"Whatever happened is out there for everyone to see," Shoaib Akhtar said.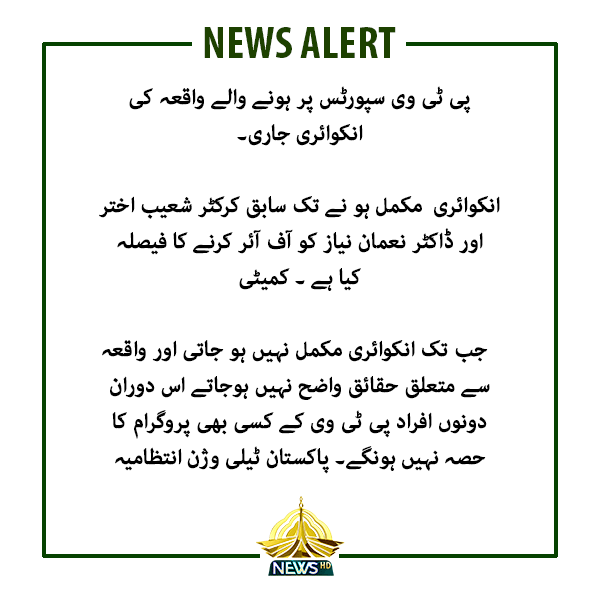 Verdict
What do you think about this news? So, do not forget to share your thoughts with us in the comment box down below, right now! Feel free to ask any queries. Also, stay tuned for more news and updates.
Have a nice day!