Australia defeated Pakistan by 5 wickets in the semi-finals of the T20 World Cup to advance to the final. Hassan Ali's bowling performance in the match was disappointing while he was severely criticized for dropping Matthew Wade's catch in the final over. The first reaction came after Pakistan cricket team fast bowler Hasan Ali was criticized for losing the match against Australia. Hasan Ali has tweeted the first time after the match. Here's what he tweeted.
Hasan Ali tweeted about resentment of people and his performance
The first reaction came after Hassan Ali's tragic defeat. He admitted in his Twitter message that his performance did not live up to the expectations of the fans. Hassan Ali also shared these poems with his tweet: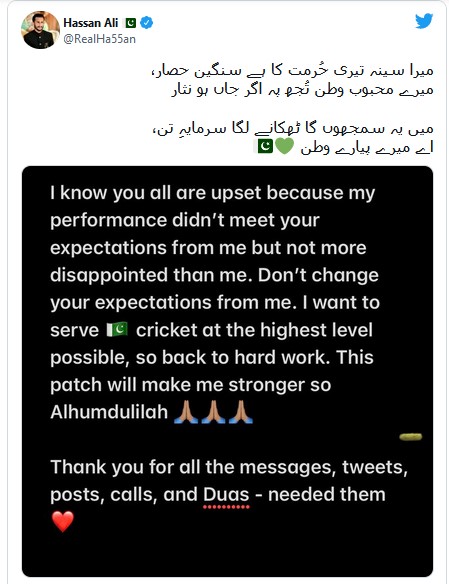 "I want to serve Pakistan cricket in the best possible way. I am grateful to everyone for the messages, tweets, social media posts, telephone calls, and prayers," he added.
Hasan Ali further said that I know you are all upset, my performance was not up to your expectations, hard work will continue, I will come out stronger.