During Friday's match between South Africa and Afghanistan at Narendra Modi Stadium in Ahmedabad, the ICC World Cup 2023 reached a new milestone: one million spectators. With the final scheduled for November 19, the event is still on course to surpass the record as the most attended ICC tournament ever.
ICC World Cup 2023 on track to be highest attended ever
With six games remaining in the 13th iteration of the competition, the 2023 event is still on track to surpass previous attendance records and become the most-attended Cricket World Cup ever. Chris Tetley, Head of Events at ICC, thinks the tournament has already been an enormous success and is excited to see more records smashed in the knockout phase.
"The ICC Men's Cricket World Cup 2023 has reminded cricket fans around the world of the support and interest in the ODI format that highlights how much World Cup cricket is valued," Tetley said. "With over one million attendees and record-breaking viewership."
"We look forward to this event breaking more records and showcasing the best about cricket in one day as we look forward to the knockout stages."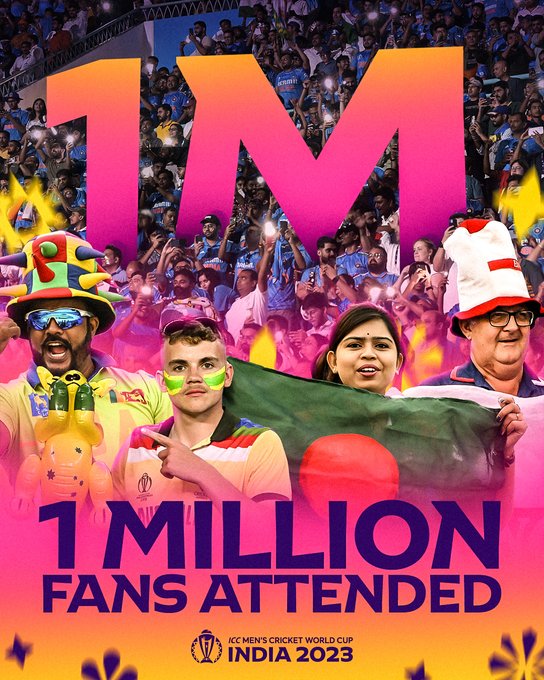 With a global cumulative average audience of 1.6 billion for live coverage, a 38% increase over the 2015 edition, and a unique broadcast audience of 706 million viewers, the Cricket World Cup 2019 was the most viewed ICC event ever, according to ICC.
In addition, compared to the Men's Cricket World Cup in 2015, the event's average time watched per unique viewer increased by 42%.
With 706 million unique viewers, cricket's popularity is still strong—a 22% rise over the 2015 Cricket World Cup. 32% of the 706 million viewers were in the 18 to 34 age range, while 41% of the audience was female.