A photo of Glenn Maxwell and Harris Rauf has gone viral on social media after the semi-final between Pakistan and Australia in the T20 World Cup. Harris Rauf's day in the semi-finals of the T20 World Cup was not good. He gave 32 runs in his three overs. However, he played 6 matches in this event and took 8 wickets and his economy rate was 7.30.
Glenn Maxwell and Harris Rauf Friendship!
It may be recalled that Harris Rauf performed well against New Zealand in the group match of the T20 World Cup semi-finals and remained the man of the match. After the semi-finals, Harris Rauf and Maxwell exchanged jerseys after the match. A photo of which was shared by the Melbourne Stars on their official Twitter account. Glenn Maxwell shared a photo of the exchange of jerseys on his Instagram account and wrote,
"I am proud of this young man as he has come. he has done an extraordinary job for the Pakistan team and the Melbourne Star."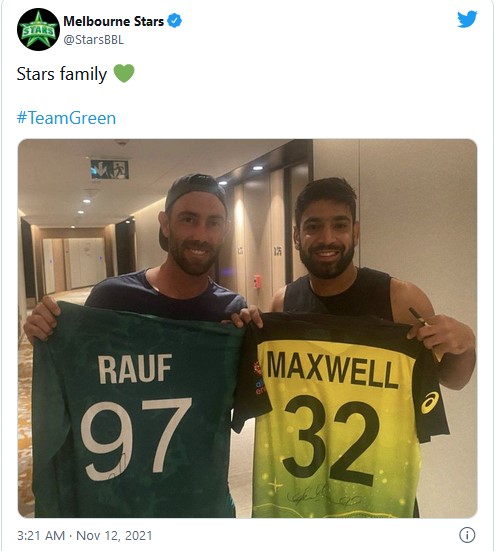 Calling the fast bowler a superstar, the Australian cricketer said that:
"Harris Rauf is a very good man and fellow cricketer, I consider Haris as a friend and treasure."
It should be noted that in the semi-final, Australia defeated Pakistan by five wickets and qualified for the final. New Zealand and Australia will face each other in the final of the event.