Pakistan's snooker prodigy, 16-year-old Ahsan Ramzan is a new hero. He managed to get pride for his country by becoming the third Pakistani to win the IBSF world snooker championship on Friday.
Ahsan Ramzan becomes the third Pakistani to win IBSF World Snooker Championship
Ramzan won the final in over five hours and 20 minutes with scores of 63-60, 91-0(70), 56-34, 01-102(102), 28-68, 27-66, 86-18, 1-70, 69-0, 63-17 and 67-25. He is winning hearts. He managed to defeat Iran's Amir Sarkosh in the IBSF finals. Plus, Pakistan has been entitled by the IBSF World Snooker title four times. Mohammad Asif had won the title twice. Now, the winner expects from Pakistani Government to respect the cuest of Pakistan. He stated:
"I can't ask for more at this age. So, I can't express my feelings in words. The feeling of being a world champion is something that only a sportsperson can feel or tell. I am thankful to Almighty Allah for this achievement."
"It was the moment when I felt that I am heading towards becoming the world champion," Ahsan mentioned about the semifinal.
"I started playing snooker at the age of 6 or 7. It wasn't an easy sail for me to get out of my home first to the streets of my vicinity, then to main roads of my city, and then play provincial and national championship before qualifying to get here," he said.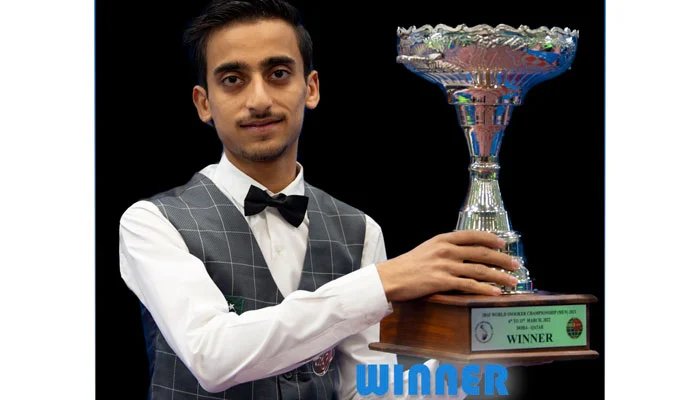 "People usually see just one player on a snooker table, but there's a long struggle and journey behind that one player. I also want to thank everyone who supported me. Also backed me, from my friends to club mates, from the club where I first played to PBSA; it wouldn't have been possible without their unconditional support," the youngster said.
"So, I want the government to support snooker; I want society to support snooker," he said.
"Thus, I wish that when I go back home. Plus, I also get the heroic welcome that any other world champion would receive, it is my wish that we — snooker players. Also, get the same treatment from the society that our cricketers receive from them," he concluded.